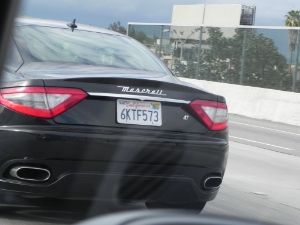 March 2 2014
The alarm rings at 4:30 am and I have absolutely no problem to wake up even if I went to bed at 1am after coming back from the Bell Centre. Bags were packed the day before so only a quick shower and a last check on travel documents, game tickets, jerseys and we're ready to FINALLY start this trip. We went through the airport routine quickly enough, it wasn't too crowded. Waiting to board the plane next to us were a few journalists covering the Habs including "La Belle Chantal" of RDS.They weren't chatting about work so we unfortunately didn't get to eavesdrop on any scoop.
I had booked a direct flight scheduled to be 6 hours long but strong winds and weight restrictions had us make a fueling stop in Denver. We ended up with sitting 9 full hours in that flying sardine can. I had planned for us to be beat when arriving to LA so no activity was on the agenda, Academy Awards be dammed (we just did like most people and watched on TV).
Arriving in LA (6 photos) I was a bit apprehensive of all those highways and the sheer size of that city but in the end, everything was fine, no traffic worth mentioning and we got to see plenty of awesome cars. So we just checked in our little hotel in Santa Monica a short Interstate drive away from the airport, went for a walk to give life back to our legs, found an inviting Mexican restaurant, had dinner and walked back to the hotel.
March 3 2014
It's game day and the weather is fantastic with a sunny 18°C. (The weather was basically a sunny 18-20°C for the whole trip except in Pheonix where it was more like 26°C). We had no definite plan for the day so in the AM we went along for a drive along the coast from Santa Monica to Malibu and back (61 photos). Taking photos through the windshield of a moving vehicle is not the ideal way to render the view we had but it still gives a very good idea. We made a stop half way back to watch the surfers do their thing for a while, then we headed to the Santa Monica Pier for lunch on a terrasse and a good dose of people watching. After lunch, we went back to the hotel to get ready for the game, this was mainly a hockey trip after all.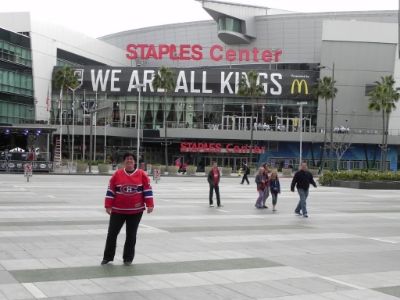 So we drove downtown early, found a cheap parking lot 3 blocks away from the arena and walked around the Staple Center. I was kind of expecting it but still was amazed at the number of Habs fans coming from all over North America! This made the waiting for the doors to open period quite enjoyable as we chatted with a lot of people who traveled for that game.
Then it was time for Habs @ Kings (33 photos) where despite the loss, we had a great time. We did meet a celebrity after all, none other than GreekHockeyCoach ! And Brière gave us a game puck after the first period.
March 4 2014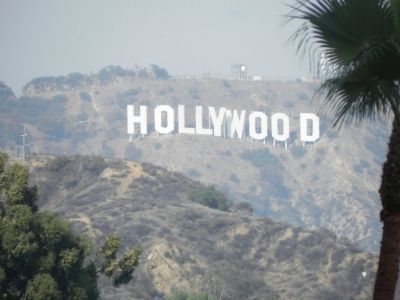 One cannot go to L.A. without visiting Hollywood and Beverley Hills (67 photos). So in the AM we had one of those "Celebrity House" shuttle tours and in the PM a Hollywood walking tour. I'm not sure whether the residences we saw were the actual houses of the celebrity that were named or not, but our guide was very entertaining and full of funny anecdotes. I forgot half the names of celebs that were thrown at us, perhaps I should have noted them down but then again, we feasted our eyes on what wealth can produce and that was the best part so it doesn't really matter.
The afternoon walking tour turned out to be a private tour as there was no one else than us booked for it (the next group had 40 people!). So we had that very handsome guide with a great voice all to ourselves (though I'm sure hubby didn't care much about that part). I'm not too sure about what I expected from visiting Hollywood as I'm just an average movie fan and not a celebrity groupie at all but both activities were fun if a bit tacky.
March 5 2014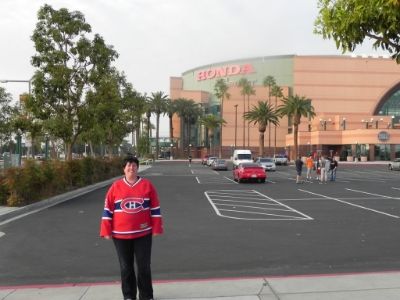 Game day again! We took the long way to Anaheim by making a detour through Long Beach where we walked for about an hour on the beach, watched the great homes, had a wonderful steak lunch then drove off to the game. Habs @ Ducks (95 photos) was definitely the hockey highlight of the trip, that shootout was all sorts of exciting and of course, we met that GreekHockeyCoach celeb again. You can also see him in one of the photos of this series. You'll have to guess though as I'll leave to him if he wants to stay incognito or go public with his mug.
March 6 2014
Goodbye L.A., we're off to the desert on another game day with a logistics anecdote. Maybe it's because I don't travel that much but I found the Phoenix rental car complex quite impressive. It's at a 10 minutes shuttle ride from the airport proper and is HUGE! Great service, well organized, minimal waiting time on a very busy day, they even check you and your baggage in for your next flight when you return.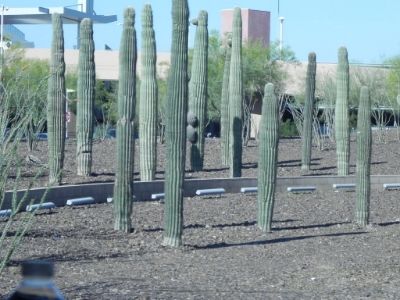 After setting our watches one hour back, we arrived at our hotel without a problem, one of those long stay suite types that was at a walking distance from the arena/stadium complex. Now I kind of understand why the arena is empty most nights there. The complex is fairly new, very well done with many bars and restaurants but in the middle of nowhere! Glendale is pretty in its own suburban way but that's it, a suburb, not much action there and quite a drive from downtown.
We were there early enough to enjoy some time in the hotel's pool and spa under the desert sun before we headed to what we went there for, Habs @ Coyotes (100 photos). Here again, a very large contingent of Habs fans, mostly Canadian Prairies snowbirds and a few locals.
I've done it before in Florida but it's always a cool thing to go to an NHL game wearing bermuda shorts. We were not behind the bench this time but still front row and actually had a better view of the game. This would have been great except for the fact that the game was not all that good to look at, other than Markov scoring of course.
March 7 2014
It's time to reset our watches to Pacific time, hit the road, or rather the airport again, direction San Francisco.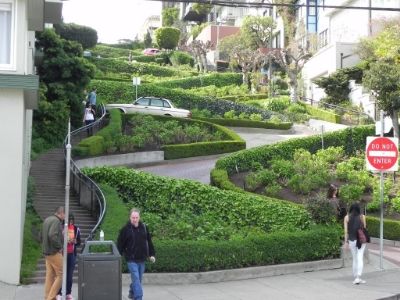 With two games in two night, with the travel and time zones, I had nothing special planned for our arrival in San Francisco (9 photos). I'm happy to say that my guess for the hotel choice was a good one. Small, clean, nice staff, cheap and very well situated in the Marina district on the famous Lombard street. We just went for a walk on the shopping strips of Union street and Chestnut street and grabbed a late lunch/early dinner and rested in prevision of a big day planned for the next day.
March 8 2014
Our day started with a visit of Alcatraz (49 photos). I had booked the 'early riser' tour to avoid any waiting lines so at 7am we hit the sidewalk for 2 miles towards Pier 33 where we boarded the ferry to Alcatraz. We could have stayed on Lombard to go down in straight line but the hill was rather daunting and we wanted to save our old legs for the prison tour so we walked around it via Fisherman's Wharf.
The boat ride was pleasant and once we got to the island, we had to walk up the equivalent of 13 floors to get to the prison entrance. I sure was glad we had saved our legs! The audio tour is very informative and interesting, and you can walk it at your own pace, pausing the recording if you want to linger in one area or another. I didn't take any picture of them but we could see the following quote on signs in many places around the area: "If you break the rules, you go to prison, if you break the prison rules, you go to Alcatraz". That place sure looked as forbidding as advertised, great visit.
I had on my trip schedule to absolutely checkout the crooked part of Lombard street, perhaps go there by bus or cable car. Coming back from Alcatraz, we walked back to the hotel but it was still very early. So I asked hubby if he was up to go check out the street now, not climb it mind you, just check it out and take a few pics. So we went and ended up climbing Lombard Street (10 photos). That was quite the workout for two sedentary old skins like us, especially since the climb to the crooked part of the street is about twice as long as the climb of the crooked part itself. But we made it! albeit with a few stops on the way up that I'll pretend were not for rest at all, just necessary to take pictures
. Then it was a piece of cake to walk the same street downwards on the other side and arrive directly at the hotel.
Our day was far from over though, we had some hockey to attend to after a 50 miles drive. Ah! even on vacation I cannot escape SAP but I digress...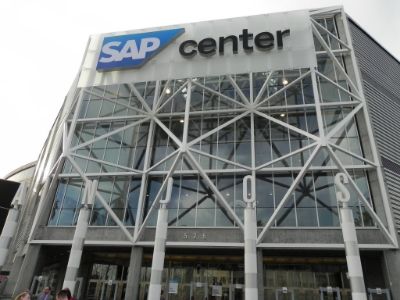 There were still a few Habs fans in San Jose but quite less than at the three other venues. While waiting for the doors to open, we saluted Marc Bergevin walking his way from the hotel to the arena. I should have thought that the Habs hotel would be close and plan an earlier arrival so that we could have gone autograph/photo hunting, oh well... It doesn't really matter, it's not as if I never had that opportunity before.
The SAP Center looks like a large tin can from the outside but looks pretty good on the inside. The seats there are the most comfortable ones from the 16 NHL arenas I've visited so far. We also had a surprisingly good view of the Habs @ Sharks (61 photos) game from behind the bench. Normally the coaches obstruct the view from those seats quite a lot but we seemed to be on some sort of elevated platform (like in New Jersey) so we didn't miss anything of the Habs being eaten alive in the shark tank
Since this was the last game of the trip and the next airplane would bring us back home, I was hoping to grab a stick or two like I normally do on those road trips. I didn't want them at the other games since we would have had to carry them and check them for our flights between cities. When we got inside the arena, I was a bit disappointed to see that the Habs players entrance was not beside the bench but in the corner on the other side of the ice That meant no souvenir stick. But that wasn't accounting for Pierre Gervais being so nice. He winked at us after the warm up and when the team came back to the bench for the start of the game, Pierre had an Emelin stick for me. Mission accomplished.
March 9 2014
The hockey part of the trip was over but since the Habs weren't playing again until Wednesday. The plan was to make the most of our trip and stay a couple more days so we went touring San Francisco (57 photos) in open roof buses. I know we missed a few important landmarks and I retained only a portion of all the information we heard that day but it still was way worth it.
We couldn't pass on riding on the cable cars so we did exactly that from one end of the line to the other then back, it's so cool! On the way back though, instead of going all the way to the end/start of the line, we got off at Lombard street (the top part) and I took a few more pictures before walking down that hill to our hotel.
March 10 2014
This is our last day in California and I couldn't find anything that could be better than a visit of the Napa Valley (29 photos) on a winery tour. When we woke up at 5:30 am, it was raining sheets but the tour was reserved and no way I was going to cancel it. We took a regular city bus to the Ferry Building downtown where we were to meat our guide and group and by the time we exited the bus, the rain had stopped. And by the time we had crossed the Goldengate bridge on our way to Napa, the sun was fully out. Yay!
We visited four wineries, had a comprehensive of the first one (Mondavi) where we learned all there is to learn about producing wine. It was very informative, not to mention that we got to taste some great and some no so great wines, 15 different ones throughout the day. it was a bit strange to start tasting wine just after breakfast but we got used to it pretty fast.
The tour and the trip ended with a ferry ride back to town, then a long leisurely walk back to our little Lombard street hotel one last time. We flew direct back to Montreal the next day and what I learned in San Francisco is that I definitely want to go back!