California road trip 2015
When we went on our California road trip last year, I was sure it would be my first and last time there. But hey, we had such a good time that I could not resist going again this year. The following is a summary of five wonderful days away from the harsh Montreal winter. My younger daughter was along for the ride this time (it was her x-mas gift) and some of the photos posted are hers.
March 1st:
We flew to San Francisco and the plan was to drive to our San Jose hotel directly and just chill and rest from the travel. Since the flight was on time and quite smooth, we arrived around lunch time and less tired than anticipated so we went for a drive in San Francisco instead. Plans are made to be changed right?
13 photos: http://smg.photobucket.com/user/dannit/slideshow/Californie%202015/0301-San%20Francisco
March 2nd:
Our hotel in San Jose was half a mile from the arena so we decided to take a walk and try to catch the Habs before or after the morning skate. Unfortunately, they arrived and left by bus in the garage so we couldn't play groupies and ask for signatures and pics. We did see Pateryn and Bournival leave after being reassigned to Hamilton though. And the scariest sight of all, 30 minutes before trade deadline and about 30 minutes before the bus left the garage, we saw Pleky take a cab, alone. You can bet that I was frantically refreshing my twitter timeline to see what was going on... nothing about Pleky from the mainsteam media but still, I couldn't shake off the dread. Then I realized that he didn't have his gear and sticks with him so all was right, right? Right. Phew!
All that excitement made us hungry so we went for lunch at a nearby Italian restaurant, walked around dowtown for a while then it was time to head back to the SAP Center. That's where we witnessed first hand one of the lousiest Habs performance of the season. Isssshhh! At least we were comfortably seated in the first row and the people around us were rather friendly. The official photographer sitting next to us even offered to take a few photos with our cameras through the hole in the glass. I declined but it was nice of him to offer nonetheless.
Before totally forgetting about that game, because we all want to forget it right? Here are 24 photos: http://smg.photobucket.com/user/dannit/slideshow/Californie%202015/0302-San%20Jose
March 3rd: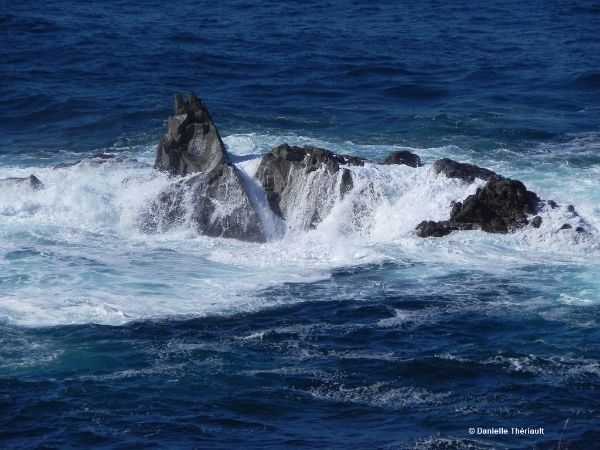 When we made the trip last year the schedule was too tight with the Coyotes games in the middle of the California games so we had to fly between each city. This year though, we had a full day to travel between San Jose and LA so we went by road, driving down the Pacific Coastal Highway.
So 8 hours of driving up and down the mountains (10 hours total including the stops), taking tight turns where speed limit was 15 mph and filling our eyes with nature's work of art. I dont think any camera could render how breathtaking the views were but here's our humble attempts. 37 photos: http://smg.photobucket.com/user/dannit/slideshow/Californie%202015/0303-West%20Coast%20Drive
March 4:
For the rest of the trip, we stayed at a small hotel in Santa Monica. To spend some time during the day before the Anaheim game, we drove to the beach and along the coast to Malibu. We stopped a few times to test the water temperature (brrrrrrrr...) , watch the surfers and have lunch at the Santa Monica Pier, where we unexpectedly saw a seal entertaining the crowd to the sound of Mexican mariachis
Then it was a short stop at the hotel to shower and change and then a 45 minutes drive to Anaheim that took 2 hours in the LA rush hour traffic.
We made it to the Honda Center at exactly the time the doors were opening so all was good. Our setas were in the section next to the Habs bench so Caroline went near the dressing room corridor with her cute innocent puppy face on and managed to get a stick from Pierre Gervais once more (Gonchar's). Some of the other Habs fan around her asked if Pierre was her father or something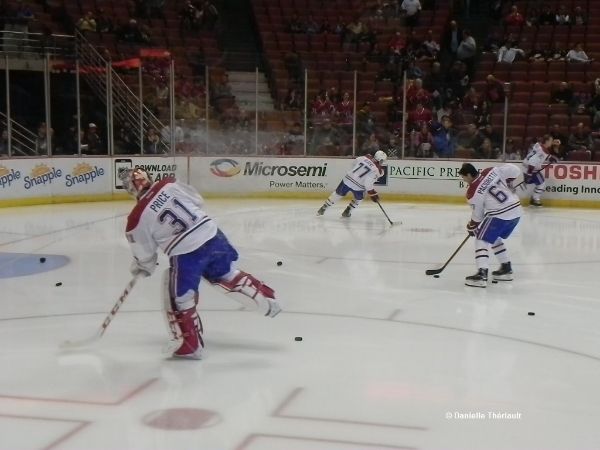 After that it was game time and even if the result was frustrating, this was quite an entertaining game to watch. The drive back to the hotel took the normal 45 minutes and all in all, we had a great day under a 23 degrees sun.
34 photos of the day and the game: http://smg.photobucket.com/user/dannit/slideshow/Californie%202015/0304-Malibu%20and%20Anaheim
March 5:
We had seen Beverley Hills and Hollywood already last year but our daughter had not so we re-did the tourist thing with her to spend some time before the game.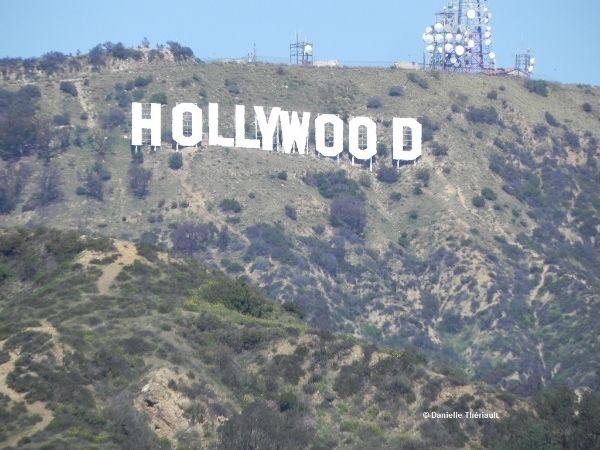 We drove on Sunset blvd, walked on Hollywood blvd looking at the stars on the sidewalk, went to take a few pics at the Chinese theater and at the Dolby theater and of course took a 2 hours minibus tour of the Hollywood Hills and surrounding area. It was a lot of fun, our tour guide, an obvious wannabe actor, was quite funny and there was a small group of New Zealand guys on board who were as entertaining as the guide. We laughed our heads off the whole time. Then it was time to head downtown LA for the game.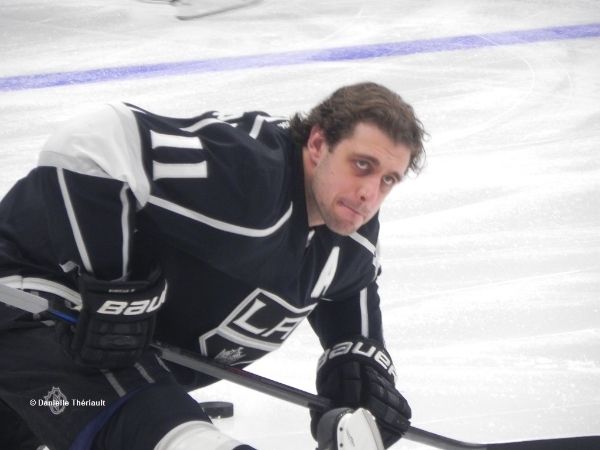 Our seats were right behind the bench this time and immediately next to the corridor to the dressing room. My usual spot at the Habs road game
We didn't see much of the game itself as our view was often obstructed by the coaches' back (as expected). That game was the one we had the most fun at, FINALLY some goals to cheer about. It's just sad that we had to have that penalty late in the 3rd, there was really nothing Eller could do to avoid it, oh well... The shootout was fun even if we didn't win. And in the end, Pleky noticed the 14 on my daughter's jersey and gave her his stick when exiting the bench. So additional luggage fees at the airport for those sticks but who cares right?
58 photos of the tourist day and the Kings game: http://smg.photobucket.com/user/dannit/slideshow/Californie%202015/0305-Hollywood%20and%20LA
March 6:
Time to fly back home
Our flight was again very smooth and there's nothing much to report other than Pierre Houde travelling on the same flight since RDS are not the broadcasters for the next game. I could have added that Arizona game to our trip but it would have meant to fly back Sunday and would have made the return to work Monday morning way too brutal. So I'll do like most of us and watch this last game of the Habs trip on TV.
THE END... until next time
---